Lead-Free vs. Lead-Safe Certification
Lead Paint Inspections Service in Philadelphia & South Jersey
The XRF Gun (X-Ray Fluorescence) is a specialized instrument which detects lead on painted surfaces. Due to the X-Ray properties, the XRF Gun can penetrate surfaces which may have multiple coats of paint covering an original (or earlier) coat of lead-based paint. The existence of lead does not necessarily indicate a threat of toxic exposure.
A lead paint inspection by a licensed and certified environmental inspection service is required by law in the City of Philadelphia for landlords renting units (houses or apartments) occupied by families with children age 6 or under. A Lead-Free inspection begins with a visual inspection and a hand-drawn floor plan. The XRF Gun is next. We test walls, baseboards, window sills, mouldings, handrails, doors…all fixed painted surfaces.
At the first sign of the presence of lead, the Lead-Free Inspection ends and a Lead-Safe Inspection begins.
If the XRF Gun detects no lead in the painted surfaces of the property, the results of the inspection are processed, and the property is certified "Lead-Free." This is a permanent status and the property need never be inspected in the future.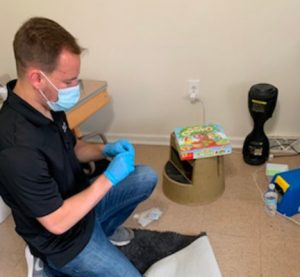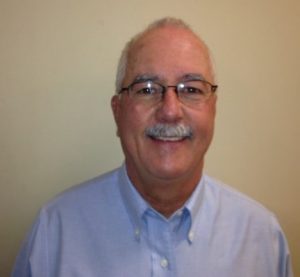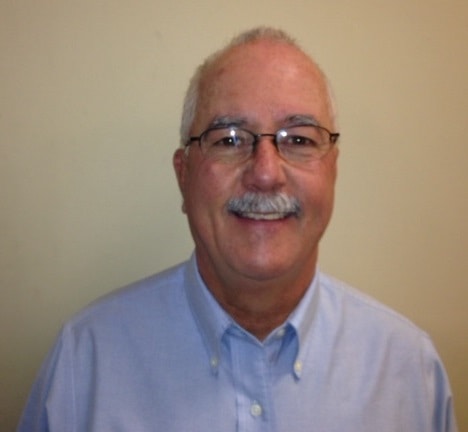 Bill O'Donnell is an environmental risk assessor, licensed and certified in PA and NJ
Lead-Safe Inspection and Certification
At the first detection of the presence of lead in the paint in a property, we transition to a Lead-Safe Inspection. As stated above, lead paint can by covered by many layers of newer coats of paint which is not necessarily a hazardous condition. We use a specially treated dust wipe which collects dust particles from walls, floors, doors, window sills (all painted surfaces). These dust wipes are submitted to a laboratory for analysis.
If the dust wipe analysis proves no active lead dust on the premises, the property will be certified as "Lead-Safe." A lead-safe status is valid for 4 years.  In 4 years the landlord is required to have the property reinspected.
Lead-Safe Conditions Are Subject to Change
What causes the Lead-Safe status to change? Usually it's due repair work being done on the premises which compromises painted surfaces.
Repairing or replacing old wooden sashes, for example. When old wood mouldings are removed, painted surfaces are disturbed. Paint crumbles. Dust is created. If installing a simple baby safety gate requires drilling and installing screws into a painted surface, this is enough to disturb lead-based paint which may exist under several coats of paint. Tapping small nails for picture hangers, applying and pulling off adhesive tape, replacing light fixtures, plumbing fixtures or bumping a piece of furniture into a wall can cause lead dust to emerge from a dormant and harmless state to an active, dangerously toxic state.
Professional Lead Paint Inspection Service is Necessary for Follow-Up Testing and Recertification
Property management companies and independent landlords in certain municipalities are required to be reinspected as described above. However, homeowners are on their own. It's up to YOU to order a new inspection.
There is no level of lead exposure which is considered safe. Humans and animals of any size or age can be adversely affected. The unborn and children under 6 are most susceptible to irreversible damage to the brain and other vital organs as a result of inhaling or ingesting lead based paint or its dust.