Lead Paint Inspection Service in Camden County
Lead Paint Inspections Service in Philadelphia & South Jersey
Camden County, New Jersey, is home to hundreds of thousands of people and is in a prime location just outside the city of Philadelphia. The area attracts many in the academic and medical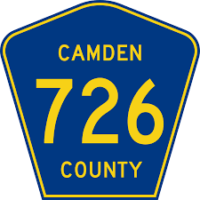 fields, with institutions like Rutgers University, Biomedical and Health Sciences, and School of Law, Rowan University and its affiliates, the School of Osteopathic Medicine and the Cooper Medical School, and much more.
With an ever-growing population, Camden County always has tenants looking for the perfect home or apartment in which to live. And if you are a property owner, manager, or landlord in Camden County, there are some things you need to know about lead paint testing if you own rental property in Camden County.
The Dangers of Lead-Based Paint in Your Camden County Home
Lead-based paint has been outlawed in the United States since 1978; however, in places like Camden County, which have had historical settlements and may have many older buildings, the presence of lead paint is still likely in homes and apartments built prior to the outlawing of such substances. It's been a federal law since 1992 for the EPA and HUD to disclose any information about lead-based paint in homes that were going up for sale or lease.
The CDC has determined that lead exposure, even in small amounts, is dangerous for anyone, but especially for young children and unborn babies. It can cause neurological damage, which can lead to developmental and learning disabilities. 
Why You Need to Test Your Camden County Rental Property for Lead Paint
For landlords in the Camden County area, it's an absolute necessity to get any rental unit tested for lead paint prior to renting it out to tenants, especially families with children under six years of age. Since 2012, a city ordinance has been in effect, requiring property owners and managers to undergo testing and receive a certification of either lead-free or lead-safe in order to avoid hefty fines and expensive remediation. 
Contact Bay Hill Environmental for Lead Testing Services in Camden County
If you're in need of a lead inspection service in Camden County, Bay Hill Environmental is here to assist you. Our team uses the latest in lead testing equipment to quickly and accurately determine if there's any danger in the property. We will schedule your inspection as quickly as possible—in some cases, we may even be able to do the tests the same day you call.
Want to know more?
At Bay Hill Environmental, we offer efficient, affordable, and effective lead paint testing services and certification. Contact us here, or give us a call at 215-284-0086 for a free quote or to schedule your inspection, and ensure you are always in compliance with current regulations.