Lead Paint Inspection Service in the Bustleton Section of Northeast Philadelphia
Lead Paint Inspections Service in Philadelphia & South Jersey

Bustleton is a residential community that is home to an ethnically diverse population. Its residents include many immigrants from Russia, Ukraine, and other former Soviet Republics. Unfortunately, in recent years, Bustleton has also become known for something else:  lead poisoning.
Call Now for a Quotation for a Lead Paint Test and Certification anywhere in the Philadelphia area: 215-284-0086
Lead-Based Paint in the Bustleton Section of Philadelphia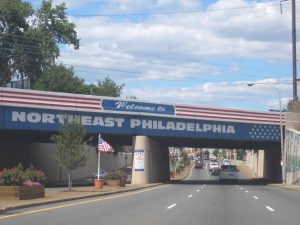 The use of harmful lead-based paint was not banned until March of 1978 and a vast majority of homes in the Bustleton section of Philadelphia were built well before that time.
The dust which occurs as a result of chipping, flaking the disturbing this aging paint is highly dangerous, especially to young children. Recent laws have helped decrease this danger, but landlords need to be aware of what's required.
Lead-Safe or Lead-Free Certifications Are Required in Bustleton
In 2011, the Philadelphia city council recognized the danger that lead paint presents. It can cause health damage to people even when not exposed on a regular basis. Children age six or under are especially in danger. That's because lead paint can cause damage to their organs and blood. Young children may even develop brain damage and learning disabilities if they're exposed to lead-based paint.
To contact a lead paint inspection service in Bustleton, CLICK HERE.
The new regulations put in place in 2011 require that any landlord who is renting out property built before March of 1978 must have a certified lead inspection done before tenants can move in. This inspection tests all of the painted surfaces in the property and determines if there is the presence of lead-based paint, and if there is any active lead dust.
To learn the difference between Lead-Free and Lead-Safe Certification, CLICK HERE.
Bayhill Environmental Is Here for Property Owners and Tenants
Property owners in Bustleton need to contact a reputable lead testing company. In the Philadelphia area, Bayhill Environmental is that company. We're here to assist homeowners, landlords, and tenants with all of their lead testing needs. Even if you're not planning on renting out your home to anyone, you may still want to have the paint tested to ensure your own safety.
If your home was built before 1978 and you have children, you want to make certain that they are safe. Don't risk you or your family's health when all it takes is one quick phone call to set up an inspection.
Schedule a Lead Inspection in Bustleton Today
Even if you've repainted recently, there still may be lead paint lurking deep down within your walls. Call us today to schedule a LBP testing or to get a quote. Often, we can perform the test the same day you contact us. Call 215-284-0086 now or click here to send us a message or ask a question.