Lead Paint Inspection Service in the West Goshen Township, Chester County
Lead Paint Inspections Service in Philadelphia & South Jersey

West Goshen Township is a great place to live. It consistently ranks in the top 15 places to live in America, and the top places in Pennsylvania to raise a family. West Goshen is home to many major companies, including home-shopping network QVC. The township also features several great parks and outdoor spaces for lots of family fun.
With a long history dating back to the 17th century, it's no surprise that West Goshen is filled with many older buildings, including homes and apartments. And if you own one of these older homes or apartment buildings, lead-based paint could be a big problem – especially if you rent out to tenants.
Why You Need to Test for Lead Paint
Under newer regulations to the Philadelphia City Code, landlords and property managers in Philadelphia and the surrounding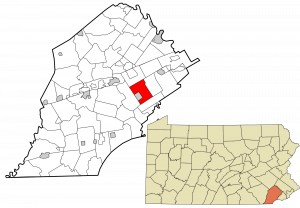 areas must undergo lead paint testing if their properties were built prior to 1978, the year that lead paint was outlawed. Even though lead-based paints were not used after that point, many homes still have hidden layers of lead paint; and if you perform any repairs or renovations to your property, including cabinets, mouldings, and window and door casings, it could break down those old layers of paint, causing dangerous lead dust that can impact your tenants' health. It's especially important if you rent to families who have children under the age of six, when lead exposure can cause serious developmental deficiencies.
Call Bay Hill Environmental for All Your Lead Paint Testing Needs In West Goshen
In order to rent any property built before 1978, it must be certified lead-free or lead-safe. The former means that there is no presence of lead paint in the unit at all, while the latter means that lead paint does exist, but it has not broken down into harmful lead dust. A lead-safe certification must be re-tested and renewed every two years, or before a new tenant moves in if the previous tenant lived there longer than two years. If you do not get testing done, you are subject to potential fines and expensive remediation if there are any problems or lead is suspected.
Save money and time, and protect your future tenants' health and safety by contacting Bay Hill Environmental. Our certified technicians serve West Goshen, Chester County, and the rest of southeastern Pennsylvania. We are well-versed in the rules and regulations around lead paint testing, and have the tools to get the job done right and ensure that your rental property – or your own home – is completely safe to live in.
Bay Hill Environmental is affordable and efficient. We offer free quotes, so give us a call at 215-284-0086 or contact us today to learn more and schedule your appointment.