Lead Paint Testing – Art Museum Area
Lead Paint Inspections Service in Philadelphia & South Jersey

One of the most popular neighborhoods in the Greater Center City District, the Art Museum Area of Philadelphia is a lovely place to call home. Also known as the Fairmount neighborhood, this region got its name as the Art Museum Area due to its closeness to the Art Museum. When living or renting homes in this area, it is important to consider lead-based paint testing to ensure your property is free of any toxic materials. Because of the history of the Art Museum Area, it is not uncommon for homes to have lead-based paint within.
Lead Based Paint Testing Regulations in the Art Museum Area 
The Philadelphia City Council passed a bill in 2011 that amended two parts of the city code. Both Chapter 6-800 and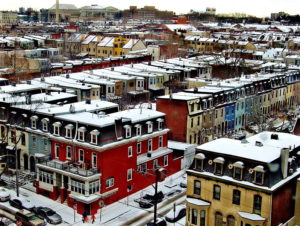 Chapter PM-102.0 were changed to add new regulations in regards to lead-based paint testing. Landlords and property managers, along with anyone else who wanted to rent a property that was constructed before 1978 has to have the property tested for lead paint. Such certifications must be renewed every two years if the home has been rented by new tenants.
Along with rental properties, homes that are being considered for purchase by prospective home buyers, as well as current homeowners, should consider testing. Lead-based paint can be harmful, especially to young children under the age of six, causing developmental issues, even permanent brain damage. It is essential that testing is completed to ensure that everyone in the home is safe from harm.
To contact a lead paint inspection service in the art museum area, CLICK HERE.
Certified Lead Based Paint Testing for Your Art Museum Area Property
At Bay Hill Environmental, we use only the best equipment to test for the presence of lead-based paint. The house is swept for lead-based paint with the use of an XRF gun. This gun can locate the paint type, even if the walls of the home have been painted many times over. If the paint is detected, special wipes are used to remove dust from the walls. The wipes are tested in a secure lab environment to see if lead dust exists. If so, then the home is not going to certified lead-safe.
Is lead poisoning in Pa., N.J. even worse than Flint?
Fast Lead Paint Testing
With our lead-based paint testing, you can find out if your home is safe. Whether you are renting or living in the dwelling, have our experts provide the quality testing so you can put your mind at ease.
Bayhill Environmental can provide a quote right over the phone. We respond quickly to your need for lead based paint testing and can often inspect your property the same or next business day. Contat us today at 1.215.284.0086.