Lead Paint Testing-Fox Chase
Lead Paint Inspections Service in Philadelphia & South Jersey

Fox Chase, a neighborhood in Northeastern Philadelphia, was named after the Fox Chase Inn. This establishment was founded in 1705, making the neighborhood quite old. It was merged into Philadelphia in 1854. Many of the homes in the area are very old. People love these historic houses, but some don't understand the danger that may lurk within these older houses. Lead paint can cause a number of health issues, and many don't realize it's there.
Call Now for a Quotation for a Lead Paint Test and Certification anywhere in the Philadelphia area: 215-284-0086
Lead Paint Testing in Fox Chase Homes
The fact that lead paint is often a hidden danger that few people know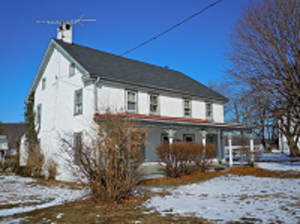 about is just one of its dangers. Lead paint was the subject of several amendments passed by the Philadelphia city council in 2011. According to these new regulations, landlords who plan on renting out any property that was built before 1978 to anyone with children age six or younger will need to have the property certified as lead-safe or lead-free by a qualified lead testing service.
It is important to note that lead-free and lead-safe are not the same. To learn the difference between Lead-Free and Lead-Safe Certification, CLICK HERE.
Why Is Lead Paint Testing Important?
Why is it important to have this test done? Lead is a toxic substance that can cause a number of health problems. In young children, though, it's especially dangerous. Until the age of six, children's organs are still developing. Lead can interfere with this development. It can even cause permanent brain damage, leaving the child with learning disabilities he or she will struggle with for his or her lifetime.
Let Bayhill Environmental Assure You that Your Home is Safe
If you're going to rent out your property in Fox Chase, or if you have an older home you want to make certain is safe, give us a call at 215-284-0086 or click here to send us a message or ask a question. We take your safety very seriously, and we will schedule your home's lead test as soon as possible.