Lead Paint Inspection Service in Cobbs Creek West Philadelphia
Lead Paint Inspections Service in Philadelphia & South Jersey

Cobbs Creek is a historic neighborhood nestled in West Philadelphia that features distinct architecture, beautiful green spaces, and a vibrant community. The majority of homes in Cobbs Creek, especially those in the historic district, were built in the 20th century.  Unfortunately, many of the older homes in this West Philly area have lead paint in them; a toxic substance that can be incredibly dangerous to residents.
Why should you test for lead? Click Here to learn more.
The Dangers of Lead-Based Paint in Cobbs Creek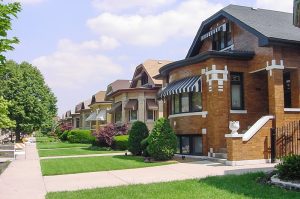 Lead is one of the most dangerous substances a person can be exposed to. Lead is toxic if it gets into the blood, even in small quantities. For children, the substance is even more dangerous and can cause organ damage, including brain damage, in young children. This can affect their development, leading to permanent damage and learning disabilities.
In the recent past, few people think about lead being present in their Cobbs Creek rental properties or their home. Today, lead poisoning leads many news stories in Philadelphia and in older neighborhoods around the country.
In older houses, lead-based paint was common and considered "top quality," and for the times, it was. But so many years later, those painted surfaces begin to decay and so does the paint. Even if that paint has been painted over multiple times, the lead can still seep through, become dust particles and then enter a person's bloodstream.
To contact a lead paint inspection service, CLICK HERE.
Lead Testing Requirements in Cobbs Creek
In 2011, the Philadelphia city council recognized the danger that lead paint posed to residents. They passed Bill 100011-A, a piece of legislation that amended Chapter 6-800 and Chapter PM-102.0 of the city code. These changed outlined the lead-safe or lead-free certification that all landlords are now required to have before they rent out any property that was built before 1978.
Learn about a Lead-Safe certification, CLICK HERE.
Even Cobbs Creek homeowners who are not renting out their property should plan to have their home tested for lead, especially if they have young children. Being able to show this certification to potential buyers can also help sell a home.
Contact Bayhill Environmental for Lead Testing Services in Cobbs Creek
If you're in need of a lead inspection service in Cobbs Creek, Bayhill Environmental is here to assist you. Our team uses the latest in lead testing equipment to quickly and accurately determine if there's any danger in the property. We will schedule your inspection as quickly as possible—in some cases, we may even be able to do the tests the same day you call.
Want to know more?
Click on the contact us link or call 215-284-0086 to learn more and request a free quote.